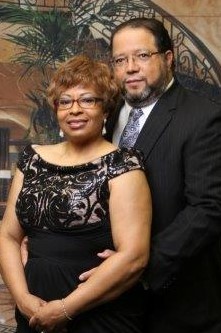 Rev. Jackson was born on January 3 in Cairo, Illinois. He is one of nine children born to the late Carl and Barbara Jackson. He has attended the following schools for Religious Education. Louisiana Baptist College, Pineville, La., North Carolina Wesleyan College, Rocky Mount, NC. He received a Bachelor of Science Degree in Church Ministries from Mount Olive College, Mount Olive, NC, on May 10, 2003, and a Master's of Divinity Degree from Campbell University Divinity School, on May 9, 2014. He plans to pursue his Doctorate of Ministry soon.
Rev. Jackson has a kind, caring, gentle, and a godly man. He demonstrates his love and concern for people through his many acts of kindness. His motto as a pastor is to compassionately meet the total person's needs through Christ-centered living, maintaining a strong biblical foundation and an ever-present focus on ministry.
Rev. Jackson has served four churches as Pastor, Assistant Pastor, and as an Associate Minister. He was Associate Minister at the Second Evening Star Missionary Baptist Church, Boyce, LA., and Mount Calvary Missionary Baptist Church, Goldsboro, NC. Served as the Assistant Pastor of St. Mathew Missionary Baptist Church, Rapides Station, LA, and the Pastor of the Sunlight Missionary Baptist Church, Pineville, LA. Rev. Jackson holds the rank of Master-Sergeant Retired in the United States Air Force. As a member of the Armed Forces, he received many plaques, medals, and awards, for his outstanding leadership, expertise, dedication, sacrifices, professionalism, courage under fire, especially during Operation Desert Shield and Desert Storm. He was named the 1995 Senior NCO for the 335th Fighter Squadron and a recipient of the 4th Fighter Wing's 1999 Senior NCO Leo Marquez Award for Leadership during his service tenure. As a catechizer, he examined numerous ministers on their Calling, theology, and holistic preparation during the Ordination of Baptist Ministers.
Rev. Jackson presently serves as Pastor of the Best Grove Missionary Baptist Church, Goldsboro, NC, The Moderator of the Bear Creek Missionary Baptist Association, the former Recording Secretary for the Moderator's Auxiliary of the Southeast Region, National Baptist Convention, USA, Inc. He is the former President of the North Carolina General Baptist State Convention (GBSC) Minister's Council and the former 1st and 2nd Vice-Moderator and an Instructor for the Bear Creek Missionary Baptist Academy of the Bear Creek Missionary Baptist Association.
Rev. Jackson is an active member in CLIFF Ministerial Organization, Concerned Clergy of Goldsboro, a Lifetime member of NAACP, a Volunteer Associate Chaplain at Wayne Memorial, and a former Associate Chaplain of Duke, and Wake Med Hospitals. He is a member and former Chaplain of the Wilson V. Ferguson Chapter of the Tuskegee Airman. A Life-long Member of the Goldsboro Chapter #45, Disabled Veterans, both a Board Member and a Committee Member of the Strategic Initiatives Committee of the United Way of Wayne County. A former member of the Blue Ribbon Commission, the Goldsboro Chapter of AARP, the Wayne County RSVP Advisory Board. He is pursuing his credentials for the NBC, USA, Inc.'s Congress of Christian Education as one of their Dean's for local, state, and national teaching objectives.
Rev. Jackson is married to Sister Jacqueline Texada Jackson, the love of his life. They are the proud parents of four children: Jeremy (Stephanie), Carl, Christin (Tierra), and LaTonya (Jason). They are the grandparents of Ahlea, Jahnari, Niya, Shayla, Abram, Ethan, Isabella, Elijah, Caylee, Isaac, Kensley, Skylar, Sophia, Noel, Liberty, and Tristin.
Rev. Jackson continues to represent the Best Grove MBC and the Bear Creek Missionary Baptist Association at the NC GBSC and at the National Baptist Convention, USA, Inc., Congress of Christian Education of the same convention, and Lott Carey. He is relentless and untiring in his effort. He works with the moderators and auxiliaries to ensure what God has given him and elected by the member is his "Best" as a steward and servant-leader of Christ.