Like good stewards of the manifold grace of God, serve one another with whatever gift each of you has received. 1 Peter 4:10 (NSRV)


Members of the Trustee Board
Alphonso Battle
Elwood Croom
Linwood Dees
Glenn Hardison, Sr.
Eugene Hightower, Jr
Joyce Hunt
Dr. Benjamin Johnson
Raynard Little
Thomas Maye
Ivory Murphy
Deloris Price
Harold Richardson
Morris Richardson
Shirley Suggs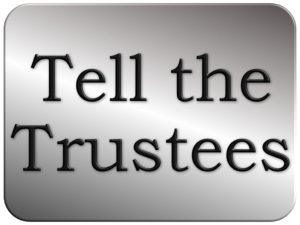 Roles and Responsibilities
Chairperson: Elwood Croom
Vice Chairperson:
Thomas "Tom" Maye
Secretary
Dr. Benjamin Johnson
Building/Construction
"Vacant"
Documents/Insurance
Chairperson: Ivory Murphy
Facility/Grounds Chairperson: Alphonso Battle
Finance Chairperson
Deloris Price
Transportation Chairperson Dr. Benjamin Johnson
Planning Chairperson
"Vacant"
Personnel Chairperson
Glenn Hardison
Usage of Facilities Chairperson: Joyce Hunt

Point of Contact Information
Chairman: Elwood Croom
(919) 778-0635 (h)
(919) 920-1859 (c)
Vice Chairman: Tom May
(201) 7424-2642 (c)
Trustees meet Tuesday before second Saturday at 6:00 pm
The Board of Trustees will function as Christian stewards of property God has entrusted to the congregation. This includes supervising and maintaining both the physical property of the congregation and gifts made to the congregation so that the ministries of the congregation can be effective and all legal requirements related to the property are satisfied.
Roles and Responsibilities
Trustees have oversight and care of all local church property, buildings, and equipment to further the mission of the church. This work is done in consultation with the pastor.
Trustee Emeritus is an honorary title conveyed by a governing board upon a former trustee of an institution to recognize exemplary service.
Trustee Emeritus
Clarence Robinson - 16 years of service